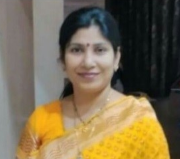 Ms. Nirmala Patro
Director
Ms. Nirmala Patro is Director of GRK Labs and GRK Fine Chem.

Before investing in GRK Fine-Chem, she's had 15 years of experience comprising of various positions held in the field of academics. Currently she is working as Head of the French Department, Delhi Public School, Nacharam, Hyderabad. By training she is a Physicist, holding a Master's degree from Berhampur University and later took interest into languages and got several degrees in Diplôme de langue (Niveau B2), AF, Hyderabad, Indian, (Graduation in French Language), German- (Niveau B1). Previously, she was a French lecturer at Kasturba Degree and PG College, Hyderabad. In 2006-07 she headed the French dept at St. Michael School, Hyderabad. In 1996-1998 She worked as a LASER Technician at Universitat Konstanz, Germany.

She was recognized for her French scholar interest by Embassy of France as a team joining at Grenoble, France in 2010. Also she is a Member of AITF (Association of Indian Teachers of French) - 2013. She has completed Certificate course from HARVARD University, USA, on Differentiating Instructions: Strategies for Effective Classroom Practice (Sept 2013-Jan 2014).In addition to all the above mentioned interests she spends her free time in painting, travelling, listening to music, learning different languages.